I don't know what exactly was it that we were thinking last night, but despite the horrendous weather we were experiencing here in NY, Heather, Margherita, Tiffany and I still went to see
Thievery Corporation
at the
Hiro Lounge
.
The night didn't really start out at all like we originally planned it. The snow was unbearable, they never sent our tickets so we had to get there earlier than absolutely necessary and what's more, we were hungry. The only thing we could really do was eat, drink and be merry. So we did.
Then came the line....
Yes, there was a line and it was snowing like I can't even describe. The white dots in the picture are in fact snowflakes.
ana & marghe in the snow!
But like everything in life, unless things get worse they do get better and the night did get better as soon as we got in and were able to feel our toes again. I NEED TO MOVE TO ATLANTA!!! Anyway, once we got in and got all settled we each got a drink and let our fun begin!

Heather, Tiffany and Margherita enjoying a martini
The guy who was DJing before Thievery Corporation came out, Nickodemus- one of the guys from Turntables on the Hudson, was pretty good. We had a pretty good time while they were on because it gave us a chance to continue to warm up, and do a bit of mingling (which we naturally did). It was cool. Very "Sex and the Cityish". Some of us picked up married foreigners, some of us picked up single foreigners, and then some of us just chilled with everyone.
T.C. came on at about 11:30ish pm. It was awesome. Everyone was dancing and having a good time. The music was cool, the atmosphere was very chill, and at times I felt like I was back in Europe.
Eric and Nicole were definitely missed!



ana and marghie having a good time
This is the view of the dance floor from the upstairs lounge. It was very crowded. I'm not very good at estimating but my guess would be that there were about 500 people there if not more. Somewhere in there is the EXTREMELY tall Austrian guy (I think he was Austrian!) who managed to catch my attention. One would think I would learn my lesson, huh? But nooooooo...not only do they get taller, but they also hold residence in places farther away...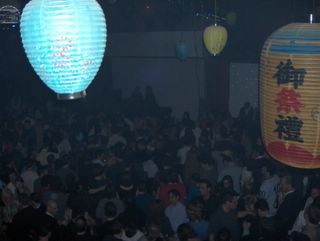 Thievery Corporation
Anyway, overall it was a great night. While the outside world was cold and white, we were nice and toasty in a way that only people who are partying can be. You know...We had some tequila ;) Needless to say, this morning we were a train wreck but that's the small price to pay to the party Gods!