Well, my Valentine's Day sucked royally. I worked late and by the time I got home I hated the world. Luckily though, Dan and Charlie came over and Dan made us a very tasty dinner: Grilled chicken and whole wheat penne. Yummie!
Of course, to make ourselves feel better about our dateless selves, it was necessary that we acoompanied that with Vodka, and then ate chocolate covered maltballs from
Dylan's Candy Bar
(I know, I am obsessed!).
I also rented a couple of movies:

The Princess Diaries 2:
A Royal Engagement
I know this wasn't exactely the best selection all things being considered, but apparently there were A LOT of people who stayed in around my neighborhood that day so
Blockbuster
was practically empty.
But it was a very cute movie- though I like the first one better.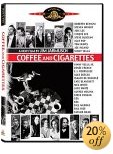 Coffee and Cigarrettes


I still haven't seen this movie (luckily there are no more late fees!) but with a name like that I couldn't help but rent it! Coffee and Cigarrettes: The Story of my life.